Office, Administrative Assist & Support Jobs
Want to put your administrative or office support skills to work? Look no further. Total Placement enjoys the reputation of being the "go-to" source for the best administrative and office support people in Waco so we get the jobs.
One Application gets you introduced to up to 100 area Companies!
One application gains exposure to over 100 firms for current and future office and administrative jobs. Many of our jobs are filled before they even get posted so Apply Now to be considered for those too.
Positions we routinely recruit for are: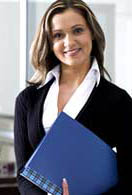 Administrative office jobs
Data Entry jobs
Mail Room Clerks
Record Office Clerks
Data Management
Legal and Paralegal
Medical Office Clerks
Transcriptionist
Customer Service
Front Office / Traffic Clerks
General Office jobs
Account Managers
Document Clerks / Managers
Claims Managers
While a few positions require some sort of advanced degree, most only require past experience. High school graduates with basic office and computer skills usually qualify for entry-level positions. Although most support personnel learn their jobs in several weeks, many positions require several months of training to learn industry-specific terminology, software, and advanced skills.  Various specialty and/or executive support positions usually need several years of related work experience.  The reason behind many company's minimum experience requirements is to shorten the learning curve for their particular position though this is changing.
Visit our
Job Openings
for current openings, but remember to apply now because not all openings get listed.
 Apply Now!  It's Easy!  FREE Service for Job Seekers!
Apply in the comfort of your own home!
Simply click "Apply Now" button in the right sidebar to complete your app
Once complete, we will call you to schedule your interview within 24 business hours.
For office jobs, office support, or office administrative jobs in Waco, don't delay - contact us now!