Warehouse Jobs in Waco
Shipping and receiving,
Material Handler, Forklift drivers
Order Puller, Packers, Stockers
Inventory Control Specialists
Many of our jobs are filled before they even get posted so Apply Now to be considered for unposted jobs also.
Many of these jobs are basic with short learning curves where job stability and work history are valued as much as past experience. For the most part, warehouse jobs in Waco require basic math and computer skills. Material handlers and forklift positions may require a little more. Obviously, skills and experience requirements are much higher for supervisor and manager positions.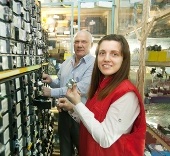 Most warehouse positions are fast-paced with deadlines, some warehouse jobs require heavy lifting, and all require attention to safety. Safety is a major concern with companies and the warehouse industry is no different.  Proper safety gear and sound practices are mandatory. Most of our warehouse jobs are in clean environments some climate controlled.
You can visit positions currently listed on our Open Jobs page.
Apply Now!  It's Easy!  FREE Service for Job Seekers!
Apply in the comfort of your own home!
Simply click "Apply Now" button in the right sidebar to complete your app
Once complete, we will call you to schedule your interview within 24 business hours.
If you are looking for Warehouse Jobs in Waco,
Turn to Waco's #1 Agency - Total Placement!
Warehouse Job Duties:
Prepares and processes; pulling materials; packing boxes; placing orders in delivery area.
Delivers product via truck or van to and from vendors.
Ships product via common carriers such as Federal Express, UPS, Freight, USPS
Maintains inventory controls.
Maintains quality service by following organization standards.
Maintains safe and clean work environment by maintaining clean and well-organized work areas and by compliance with procedures, rules, and regulations.
Completes reports by entering the required information.
Contributes to team effort by accomplishing related results as needed.
Don't delay - Contact Us now!