Warehouse Jobs in Waco
Waco has a lot to offer and with new companies arriving almost daily, you have a wide variety of warehouse positions to choose from. Positions open at any given time include forklift drivers, shipping receiving, material handlers, part-time warehouse, packing, order pullers, stockers, inventory specialists, and managers.
Visit our Job Board for current openings. Positions fill quickly by people already in our database so not all jobs get listed. Apply now so you can be considered for jobs before they get filled.  
Apply Now!   Better Jobs & Great Careers
FREE Service to Job Seekers!
Apply in the comfort of your own home, or come in and we will gladly assist you. 

Simply click

"Apply Now"

button in the right sidebar to complete your app

Once complete, we will call you to schedule your interview within 24 business hours.
Be thorough when completing your application. List the positions you held at each job along with the skills you utilized to accomplish different tasks. This offers recruiters and clients a clear picture of what can do and where you acquired your skills.  This pays off big when recruiters and companies compare your skills against those of other applicants.
More Information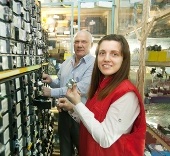 Warehouse positions are fast-paced with some jobs requiring lifting. Safety is a major concern with companies and the warehouse industry is no different.  Proper safety gear and following safety policies are mandatory. While a few warehouses are climate-controlled, most are not though clean environments are the norm.
Generally, positions only require short learning curves so job stability is valued as much as past experience. Basic math and computer skills are highly valued. Material handlers and forklift positions require a little more. Obviously, skills and experience requirements are much higher for supervisor and manager positions.
Don't delay - Contact Us now!