Having a difficult time staying motivated during your job search? Feeling a little lost? By working a routine, you will not only increase your motivation, but shorten your time between jobs.
While you can't control the job market, you can control your day. Set minimum goals and think of yourself as self-employed. Now your job is task oriented in activities most likely to result in a job offer.
Over 60% of new jobs are filled without ever being posted. Meaning, you never had a chance. Why? Because the majority of all jobs openings, including the 60%, are filled through referrals. So, your time on the job boards should be no more than 30% of your total search effort. Instead, make a list of your employed friends and other influential people that you know from church, school functions, clubs, business associations, or other organizations. These people need to be employed or actually know people who know people. Educate this network on your skill set. Ask for referrals and recommendations. This is how most of the jobs are filled. Friends recommending friends.
Find a special friend, family member, or business acquaintance with a talent for making you. Arrange "business" meetings to help you keep on track. Follow these steps and you will continue to be motivated throughout your search.
It is also worth your time to view our live interactive online training webinars. In a short period of time, these videos will provide you with critical training that will give you an advantage over other job seekers. Locate these videos on our Career Portal:
1. Log in at totalplacementjobtools.com 
2. Click on the Webinar tab for upcoming programs
3. For past recordings, Click Library, All Topics, then Webinars
Questions? Give us a call. We are here to serve you.
The Staff at Total Placement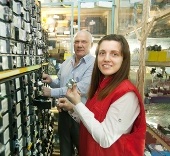 Why should someone hire you over your competition?
Almost daily, applicants question why they were not chosen over someone else. Rarely do they grasp the reality the job search is a competition against other applicants with the one with the most marbles wins. If you know why you should be chosen over all other applicants, share it. This should be included in your application and/or in your resume. Selling yourself to the prospective employer is important to a successful job search.
Unfortunately, it is not uncommon to see hastily assembled resumes and poorly written applications with no intention of customizing them for each job inquiry.  Bad mistake.  Would you hire someone who spent little effort on these two very important items, and what do you think an incomplete application says about someone?
Want the stability, respect, and recognition a great job can afford you? You must put some effort into selling yourself. Toot your own horn to receive the attention and recognition you have earned from past positions. Ask yourself what values you bring to the table and address those in a brief summary.
Take whatever time is necessary to create an attractive paragraph of your best marketable attributes and skills. You may even want to create different summaries to directly address different types of jobs.  Remember, you have to at least get your foot in the door for an interview. Step one.
Companies look for stability and practiced skills that are important to the success of their business. Do you possess those qualities? If so, quickly outline those traits in a brief statement. This will be the introduction to your resume, cover-sheet for your application, or included within your job responsibilities.
Create a summary enticing enough to stop the employer from flipping applications and focus on you.  Doing this one simple task will place ahead of 80% of your competition.
Not happy with your job search results?  A few simple changes in your process will significantly improve your callback ratio.   
Examine your resume and text you use to complete online applications. Do they contain keywords contained within the job ad?  These are the very words the recruiter uses to search through their computer database. You don't include them, you will be lost in the infamous black hole.
Do not spend more the 10% of your time browsing the big job boards.  Surveys show this practice produces the lowest percentage of success. 
Every day, MAIL  at least 3 resumes to companies you would like to work for. Address them to the boss of the person you would be working for and never to HR.  They are a black hole.  Write "personal/confidential" in the lower left-hand corner of the envelope. The idea here is for the big boss to give your information to the person you would be working under.  In this way, it looks like his boss is recommending you.  This "direct marketing" gets your information two steps past the resume boards and directly in front of the decision maker.
Improve on your Personal Network of people employed at different companies.  Make at least three contacts toward this goal – daily.  The more working people that are made aware of your job search, the better chances you have of getting that "inside" job referral.  60-80% of jobs are filled through referrals for jobs that are never posted anywhere. Be one of the lucky ones.
Keep online profiles and status updated on all social media. LinkedIn, Facebook, where ever.  
Even if it is not your area of interest, consider working contract or temp jobs.  The object is to get people to notice you. People appreciate talent when they see it in action. 
Other helpful articles are available by simply visiting our Personal Career Portal.  Just click on the above "Job Seekers" tab, then the "Get Career Help" tab in the right menu bar.